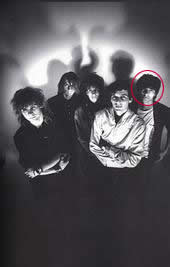 Gこないかって連絡が来たけどよく考えてみます(じゃいくわなんて気軽さはもう持ち合わせていない)皆さんは?
シアトルにいるならベルビューなんて行ける距離だよ?
こないだ行ったときはサブポップチラっと伺ったらすっかり時代に追い越された感あったけど…
皆さん元気そうでなにより。
hey Alex thanks dude inviting im gonna thinkbout goin there but imnot sure.
dyo guys getta hustle in studio now ? see yaround.
GREEN RIVER REUNION / SUBPOP 20th ANNIVERSARY FESTIVAL
Ken Nishijo you're invited! Print Invitation Details
Host: GREEN RIVER
Location: MARYMOOR PARK
6046 West Lake Sammamish Pkwy NE, RENTON, WA 98052 US
View Map
When: Sunday, July 13, 12:00PM
Phone: 206.784.5323
After 21 years Green River (featuring members of Pearl Jam and Mudhoney) will be reuniting for a one-time concert celebrating the 20th anniversary of the inception of SubPop Records. It will be a two-day event running from noon to 10p on Sat. July 12th and Sun. July 13th. Green River will be headlining on the day of the 13th. All proceeds will be going to charity. Single-day tickets are available for $35 / both days for $60 and are available at www.ticketmaster.com. or by calling 206-628-0888.